So.... the ring is here.
M dropped me off (in the middle of a date, lol) at his parents' house to go pick it up. At first it was "We need to go run some errands for my parents" and then when pressed it turned into "
I
need to go to the Post Office to pick something up."
I know where he ordered it from. It came from New York, more specifically, Grand Island, New York.
The website is here, for those that are interested. I found this a couple months ago when he asked about ring choices, and LOVED the reverse cradle idea.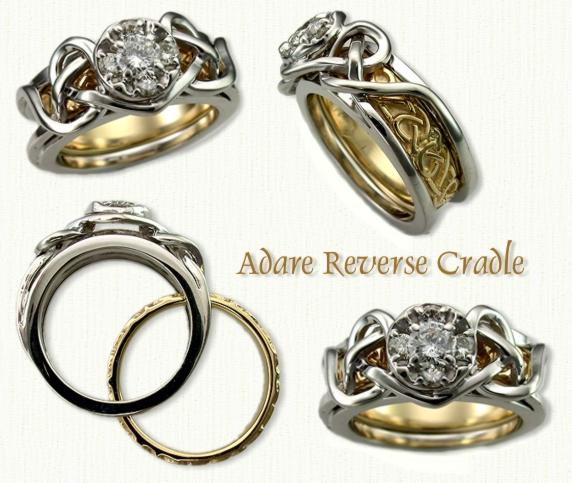 My favorite, the Adare. Image from www.raru.com.
(I'm coming up in the blog world, now I have PICTURES, lol)
Can you see how beautiful it is though? And the though I know it's not a must for some, I really loved the idea that the engagement ring and wedding band worked together. :) The center ring of gold?? That's the wedding band. Cool huh?
Their work is all custom, so I don't know what it looks like, at all. Although I did give him the pages of the ones I liked specifically, (and he had a hard time keeping his design a complete surprise) so I have a general idea.
I also know that we have plans on Sunday that he refuses to share with me, and after picking the ring up he was asking all sorts of questions about my favorite dates, etc, etc.
So... things are happening!